TwoVu Reusable Dilator
for use with TwoVu ST and TwoVu EX scope sheaths
Designed specially for use with the TwoVu ST and TwoVu EX scope sheaths, the reusable dilator provides an easy-to-use system for dilating the incision for easier insertion of the TwoVu scope sheath/arthroscope assembly.
Constructed of durable stainless steel.
8mm OD, 143mm working length, 162mm overall length.
Ball-grip handle handle provides good grip and positive control.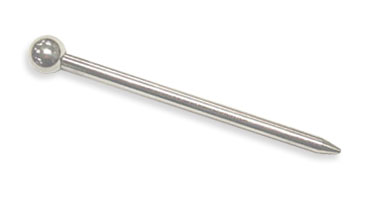 ---
You may also be interested in:
TwoVu ST. Provides only continuous irrigation fluid flow capabilities and no anti-extravasation capabilities.
TwoVu EX. A Combination out-flow and anti-extravasation sheath for shoulder and hip arthroscopy.
EntreVu EX. In addition to offering all the functionality of a conventional instrument cannula, it also provides anti-extravasation capabilities.
Order Information

Product

Quantity

Ref#

Reusable Dilator
(for use with TwoVu ST and TwoVu EX scope sheathes)

Box of 1

TVDR-8

To place your order or to obtain the contact information for your local Cannuflow sales representative, call our Customer Service Department toll-free at 1-866-484-5400.